After an unprecedented series of deadly earthquakes struck Syria and Turkey, the death toll keeps rising, surpassing 16,000 by Thursday morning, while domestic and international rescue teams continue their search for survivors.
Harsh weather conditions and significant damage to infrastructure have affected both rescue efforts and incoming international aid, and the extent of the devastation is still unclear, especially in the less accessible areas of the two countries.
Euronews View talked to WHO spokesperson Tarik Jašarević about the destruction the quake left in its path, the ways in which the disaster has struck the affected communities in Turkey and Syria, and what still needs to be done to help right now.
Euronews View: The earthquake struck a vast area in Turkey and Syria. Could you please tell us more about the sheer scale of the disaster we are witnessing?
Tarik Jašarević: The two earthquakes and hundreds of aftershocks have caused significant destruction on each side of the Turkish/Syrian border, claiming thousands of lives across both countries and damaging or destroying essential infrastructure, including health facilities. 
These have been some of the strongest earthquakes to hit the region in a century (on a scale not seen since 1939), prompting a küresel humanitarian response — including from WHO and other United Nations partners — at the request of the Government of Turkey.
As WHO Director-General Tedros Adhanom Ghebreyesus said at Wednesday's press conference, "With the weather conditions and ongoing aftershocks, we're in a race against time to save lives. People need shelter, food, clean water and medical deva for injuries resulting from the earthquake, but also for other health needs."
Euronews View: Your organisation has initially predicted that the death toll could rise to 20,000. This would mark one of the most disastrous events in Europe's recent history. What kind of an effect can this have on the societies in Turkey and Syria in the immediate aftermath?
Tarik Jašarević: The figures on casualties are expected to rise as the situation evolves and are likely to increase as the full extent of the damage becomes clearer. 
 As DG Tedros said on 7 February, "What these numbers don't tell us is the grief and loss being experienced by families right now who have lost a mother, a father, a daughter, a son beneath the rubble — or who don't know whether their loved ones are alive or dead."
The initial focus is on saving lives and providing deva to the injured. National officials in both countries are leading search and rescue operations while anticipating an increased need for trauma deva to treat the injured, but it's a race against time.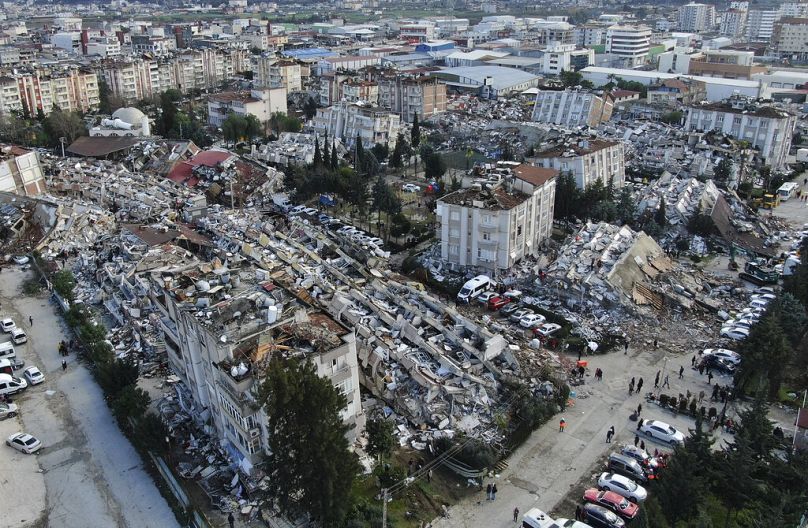 Continued aftershocks, severe winter conditions, and damage to roads, power supplies, communications, and other infrastructure hamper access and search and rescue efforts. 
Heavy snow, rainfall and cuts to electricity and communications further aggravate the situation, while people have only temporary or no shelter from the elements.
We are especially concerned about areas where we do not yet have information. Damage mapping is ongoing, but with hospitals and clinics damaged and health workers needing to deva for those around them, we expect there will be a need for further support from around the country and region.
Euronews View: What has been affected the most, what kind of disruptions are people facing, and which services are critical at the moment?
Tarik Jašarević: Widespread damage has been caused in southeastern Turkey and north-western Syria; in Turkey, 3 471 collapsed buildings have been reported so far, and (according to the authorities) at least 15 hospitals have been damaged, with many more health facilities affected. 
Through the health cluster, WHO and partners are currently mapping the health facilities affected, their functionality and needs, and collecting further veri on trauma and injuries resulting from the earthquakes.
Earthquakes cause high mortality resulting from trauma, asphyxia, dust inhalation (acute respiratory distress), or exposure to the environment (i.e. hypothermia). 
In any earthquake, it is critical to respond to the immediate needs as well as the potential many downstream consequences of the event, including disruptions to healthcare services, threats due to exposure to cold weather, mental health needs, and increased risk of disease outbreaks.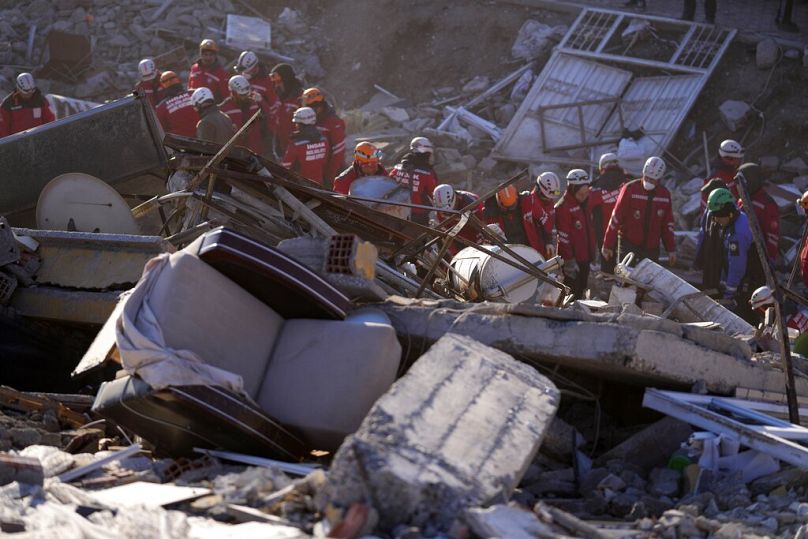 Immediate health impacts include trauma-related deaths and injuries from building collapse, so surgical needs are important in the first weeks. 
The broad pattern of injury is likely to be a mass of people with minor cuts and bruises, a smaller group suffering from simple fractures, and a minority with serious multiple fractures or internal injuries and crush syndrome requiring surgery and other intensive treatment. 
Burns and electroshocks are also present, especially where energy supplies and infrastructure have been heavily affected.
The wider health system needs support in the affected areas, including where health facilities have been damaged.  Earthquakes damage health facilities and transportation, which disrupts service delivery and access to deva, while health workers may not be able to reach the still functional health facilities.
Euronews View: What can be said about the communities that have been affected the worst? What kind of specific needs do these communities have that are possibly not being discussed at the moment?
Tarik Jašarević: In the midst of difficult winter conditions, this earthquake has affected a population of an estimated 23 million people (according to Pacific Disaster Centre), and the vulnerable have become even more vulnerable.
About 15 million people live in areas of Turkey where the impact of the earthquake is being most felt. The country hosts the largest refugee population in the world, with at least 4.2 million refugees and migrants and 300 000 asylum seekers. While the country has a very strong capacity to respond to earthquakes, the level of the destruction is such that they have put out an alert for international medical assistance.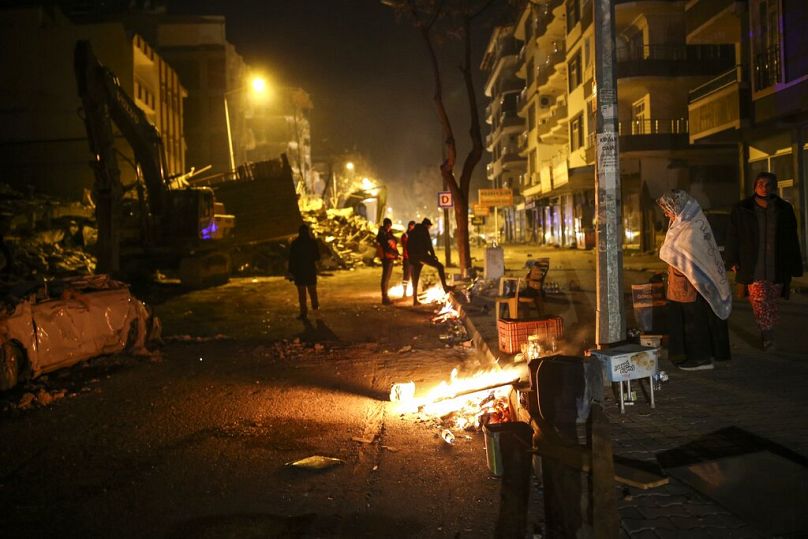 In Syria, 15.3 million people are in need of humanitarian assistance. Twelve years of conflict, socioeconomic downturn, population displacement, and multiple public health hazards, including disease outbreaks, have put significant pressure on a fragmented health system. 
This tragedy adds to the suffering of the people of Syria and is expected to further exacerbate vulnerabilities, including outbreak control, potential disruption of life-saving referral networks, and additional pressures on already strained health services for trauma deva and rehabilitation.
The immediate needs are search and rescue, trauma support and safe shelter, as well as psychosocial support for those who need it. Damage to water, sanitation and health deva services may contribute to a heightened risk of disease outbreaks. Poor weather and exposure to the elements also increases the risk to people's health. 
National authorities are focusing on search and rescue while anticipating an increased need for trauma deva to treat the injured. Many hospitals have been damaged and may need additional supplies and support.
Euronews View: What is happening in Syria? Can international help reach the affected areas there at all at this time?
Tarik Jašarević: WHO is working with national and international health partners throughout Syria. 
 In northwest Syria for example, WHO provides medical supplies to many of the 141 partners who have been delivering health deva for a decade now. These are the local responders who are treating the wounded and shoring up health services.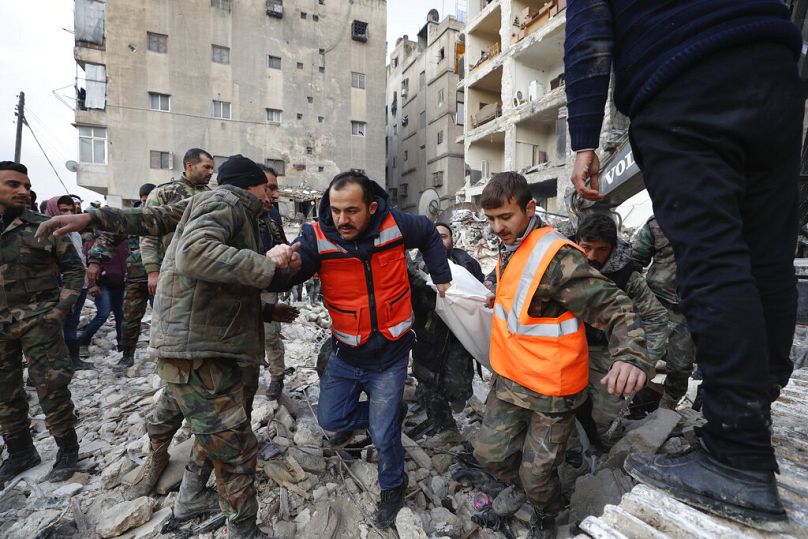 WHO and its implementing partners continue to work with health authorities and other partners in Turkey and northwestern Syria from our cross-border operations based in Gaziantep to help provide essential health services and support to those affected. 
Trauma emergency and surgical supplies were shipped cross-border to 16 hospitals in northwest Syria on 6 February.
Euronews View: How would you rate the international response so far? Is there something that Europeans and others could do to help in particular, be it on an individual level or through their governments?
Tarik Jašarević: WHO is providing medical supplies, supporting both countries to respond and working with partners to provide specialised medical deva, mental health and trauma response, preparedness and service provision for sanitation, disease surveillance and outbreak prevention and readiness, and ensuring continuity of essential health services.
We are closely monitoring the situation, mobilising supplies and working with local health authorities and other humanitarian partners to provide essential health services and support to those affected. Our priority is to ensure that people in need have access to adequate medical deva and essential medicines.
Life-saving medicines and supplies have already been dispatched: one flight is currently on the way to Istanbul, carrying medical supplies and surgical trauma kits from our logistics hub in Dubai and a flight to Damascus is almost ready for departure. A third flight with supplies is being planned. 
To give an example of the volume and type of supplies shipped, the flight to Syria contains 160 metric tonnes of medical supplies to treat injuries and major surgical trauma supplies, medical equipment, medicines, and others.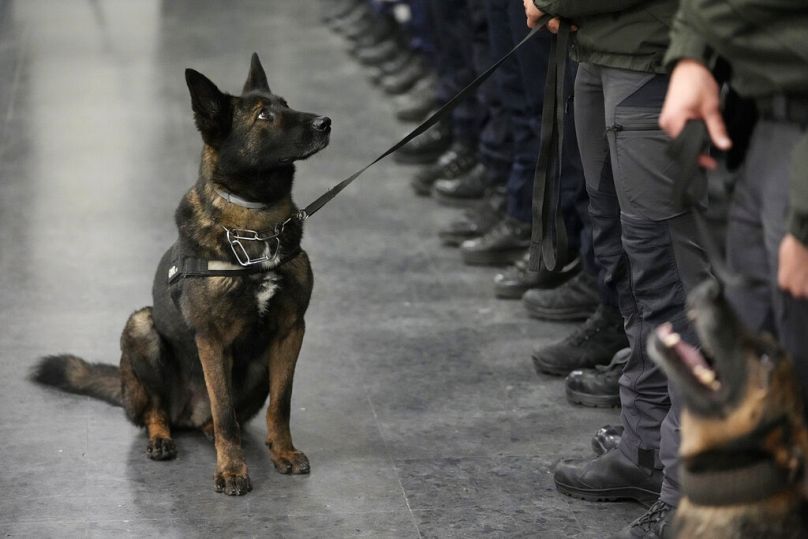 In addition, 77 national and 13 international Emergency Medical Teams (EMTs) are deploying to both countries. EMTs are made up of health professionals from around the world who are trained to provide life-saving deva in emergency situations.
In terms of immediate needs for the response, WHO and its partners need access to most affected populations, including by cross-border and cross-line approach, as well as facilitated entry and distribution of medicines, supplies, equipment, and surge support staff.
New resources are urgently needed, as the reduced funding is severely affecting operational capacity and ability to respond to any additional/emerging crises. Additional trauma and surgical supplies, prosthetics and assistive devices, basic first aid kits, and support to partners to ensure sufficient safe water supply are also required.
To quote DG Tedros, "this is a moment when we must come together in solidarity, as one humanity, to save lives and alleviate the suffering of people who have already suffered so much."